How to Clean and Restore Tile and Grout
Restoring your tile and grout to look like new may seem may seem like an impossible task. However, there is a proven way to make nasty bathrooms a thing of the past. All too often, you enter public restrooms only to be confronted with dirty tile and grout floors and a familiar, nasty odor. Unfortunately, having subpar restrooms can negatively impact guests' impressions and ultimately, can hurt your business. Do you maintain floors in-house, contract bathroom floor maintenance out to a cleaning company, or serve as a floor maintenance contractor? No matter what your role is, you need to know that there is an ideal way to clean tile and grout with less time and effort.
You Need Power to Really Clean
An effective tile and grout cleaner must be powerful. It needs to be able to open the pores of the existing grout, lift embedded soil and contamination that collect in grout, and also clean the tiles without damaging them.  Bathroom grout is often subject to elevated humidity levels, so porous grout often does not have a chance to dry completely. Therefore, it is particularly subject to bacteria and mold growth. In fact, grout is the most common source of the horrible odors that hit your nose upon entering restrooms. Gross, huh? Also, foot traffic can bring in all sorts of contaminants and germs, the latter which tend to proliferate in a moist environment. That contamination is then tracked throughout your facility. The only way you can effectively tackle these issues is to thoroughly clean your entire floors then seal the tile and grout completely with a seamless barrier.
STEP ONE: Eliminate Tile and Grout Odors
Sadly, although bathrooms can seem clean because they look clean, unpleasant smells typically cannot be com
pletely eradicated. There are dozens of products that mask, but not solve, the odor problem and are used as a "fix". However, there is a proven way you can eliminate, not cover odors. Tile Pro Acid, the ultimate professional-grade restorative cleaner and descaler for tile, grout, and concrete, gets right to the source of the problem. This unique, high-performance product was formulated with a low-pH organic salt solution designed to aggressively attack stains without damaging or etching tile or fixture surfaces. It penetrates deep into the absorbent grout pore structure and cleanses thoroughly, lifting compacted soil, mold, mildew, and bacteria. It also effectively sanitizes your tile and grout, yielding a safe, odor-free surface. The result? Your bathroom will smell fresh and clean, and your guests will feel comfortable when entering your establishment.
STEP TWO (optional): Restore Your Grout to Look Like New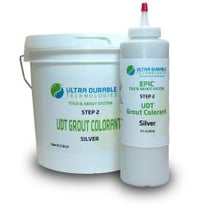 Grout becomes discolored quickly and easily, and you may often feel that no matter how much time and effort goes into trying to maintain it, grout never really looks clean. Actually, there IS a proven way for you to quickly rejuvenate and recolor the grout to look like new again. UDT's Grout Colorant, available in a selection of 12 colors, thoroughly penetrates grout and yields a consistent, uniform color and appearance to existing grout lines. You may opt to restore the original grout color or you can even try a whole new look with a different hue.
STEP THREE: Seal Those Floors and Avoid Future Odors!
After cleaning and sanitizing with Tile Pro Acid and using UDT's Grout Colorant, the final step is to apply EPIC for Tile and Grout, the best product to completely seal and preserve your newly clean, beautiful floors, while protecting them from future wear and tear. Just one coat of EPIC shields the surface from any subsequent accumulation of dirt, mold, and bacteria growth. The sealer dries in as little as 4 hours and provides a single, impenetrable membrane to seal the tile and grout completely. This membrane completely eliminates odors from being trapped in the tile and grout, and it makes routine cleaning easier than ever.
Tile Pro Acid, UDT Grout Colorant, and EPIC for Tile and Grout offer many advantages over competing products, including:
All three contain a low amount of volatile organic compounds (VOCsVolatile organic compounds (VOCs) are emitted as gases from certain solids or liquids. They include a variety of chemicals, some of which may have sho... More). In fact, they are all water-based.  UDT Grout Colorant and EPIC can also be cleaned up easily with water.
Tile Pro Acid offers a deep and lasting clean result that will make your bathroom tiles look like new again.
EPIC For Tile and Grout Sealer cures to a water-resistant film that keeps your bathroom sparkling and easy to keep clean.
EPIC Tile & Grout Sealer can also be customized with our Ultra Grip Additive to enhance slip resistance in locations that are occasionally wet.